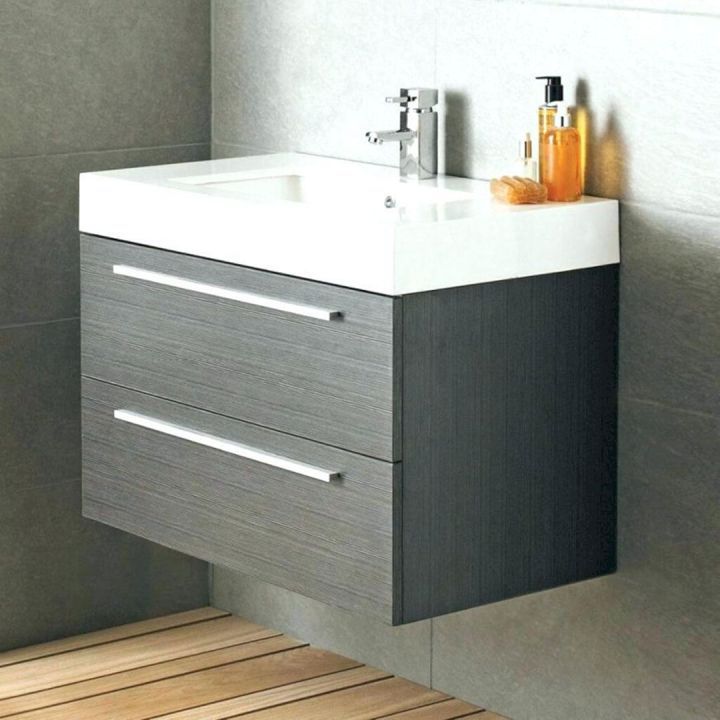 Choosing a vanity for your bathroom is not an easy task. First, you need to measure your bathroom to determine how much space is available. The standard vanity width is 18″, 24″, 30″, 36", 48" and 60". Then you've to think about the appearance, whether you want a traditional, contemporary or something in between. Finally, keep the daily usage in mind that do you need additional storage? If yes, then find a vanity unit that has drawers. While selecting a top, keep in mind that the size of the top is an inch wider usually e.g. for a 24″ vanity you'd require a 25″ top. The top comes in a variety of colors and designs. As a general guideline, a light color vanity goes well with a dark color top.
Home Depot Bathroom Vanities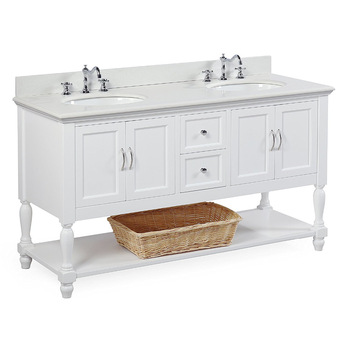 Overview: Vanity pro is a bestselling product of home depot. Home Depot is the number 1 brand in the U.S. Its innovative features are designed for residential and commercial use. They also offer small bathroom vanities. The durability and ease of installation make vanity pro the perfect audition for any job. It is available in two colors i.e. Chestnut and amber in two sizes (24″ and 30″). The elegant finishes compliment any bathroom décor. For ease of installation and saving its water sensor faucet is pre-installed. The cabinet includes European concealed 35 mm 6 way adjustable hinges. Base nail glides are also included to keep the vanity off the floor, preventing water damage. It has a limited lifetime warranty. Glacial Bay 5 in 1 vanity pro is available online or at home depot stores.
Pros:
Available in different sizes.
Easy to install.
Economical and user-friendly.
Cons:
The Home Depot stores are not available in small towns.
The color variety of home depot needs improvement. They should introduce more colors and designs.
---
Lowe's Bathroom Vanities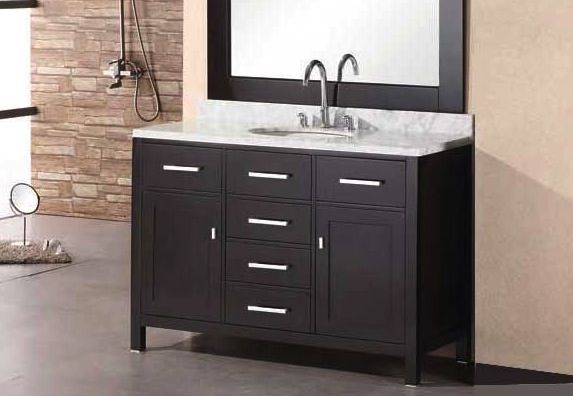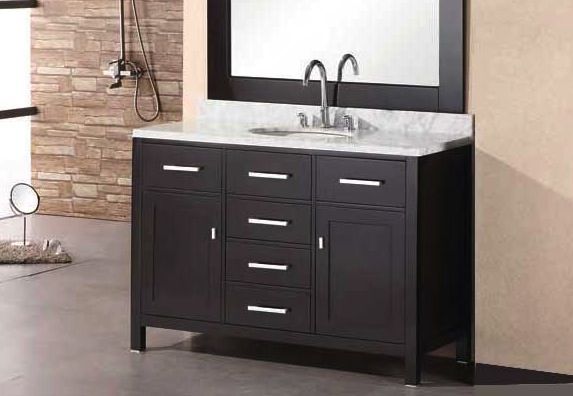 Overview: Lowes is the 2nd biggest hardware store in the U.S after Home Depot. Those have been the standing for 30 years. In the late 80s, Home Depot took that number 1 spot from Lowe's and it's been that way ever since. Lowe's started in 1921 and the original store was called Mr. L.S. Lowe's North Wilkesboro Hardware. In the beginning, Lowe's focused on the users/consumers as main customers but later on, they resorted to the role of a retailer and started expanding their business through construction companies and professionals. In a bad economy, you target the consumers and in good, you target the professionals. They offer a variety of bathroom vanities including small bathrooms vanities of different makes and types. Following are the top 5 bathroom vanities by Lowe's:
KDK B01 20 3/4" Rectangle White is stain resistant and made up of finest vitreous ceramic material.
Kraus KCR 281 Modern Elavo is easy to clean due to its polished surface and is of very good quality.
Self-rimming bathroom sink complements archer collection. It is constructed of vitreous china.
Kohler K 22140 Ladena is also constructed of Ladena. It is an under-counter installation.
Kohler K 23550 Archer is an under-counter installation but it does not include the faucet.
Pros:
Bathroom vanities are available in a vast variety.
It gives away a sophisticated and perfect look.
Easy to clean.
Easy to replace and install a new one.
Cons:
Despite being the oldest in business they are at number two and prices of most of the products are a bit high as compared to home depot.
---
Ikea Bathroom Vanities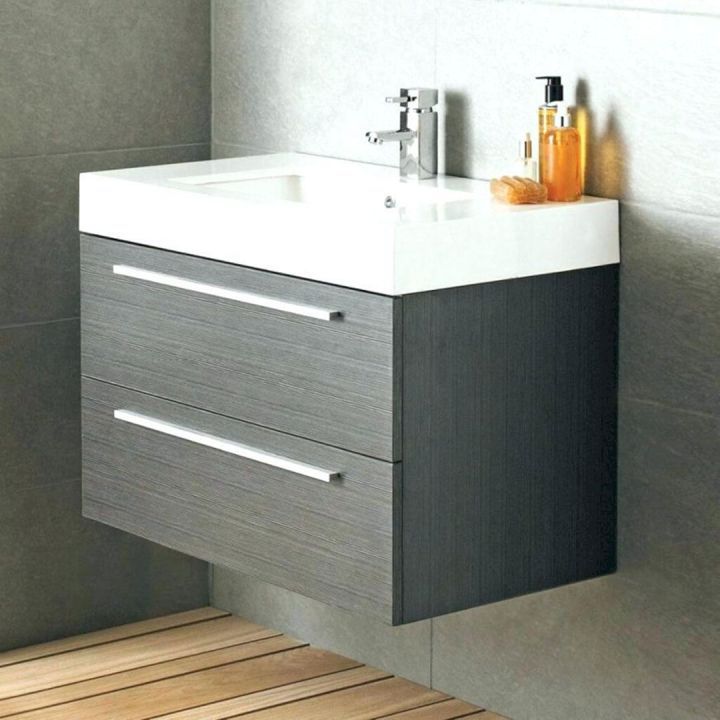 Overview: The average size of Ikea vanity is 36" wide, depth 20" and height 35″. The vanity is made up of pure wood is therefore very durable. They are available in different colors and sizes. You can select any bathroom vanity by measuring your bathroom and the space available to you. It is considered to be a perfect solution to update a small bathroom on a lower budget. The drawers underneath the sink provide an extra hidden storage area to the users. It usually comes in all colors but you can paint it any color of your choice. You can also make the vanity at your home. To make it by yourself, you would require lumber, plywood, hinge, Milter saw, table saw or circular saw, and the drill machine. Cut all your wood pieces according to the size you want, including cutting the plywood for the side panel and arrange them with the help of glue and pocket screws. It is time to check your measurement again to make a vanity perfect for your space available. Cut the board and plywood for the rest of the vanity and begin to assemble the vanity frame. You'll attach two pieces across the front between the two sides' assembly. Then slide the bottom of the cabinet into place and attach. Install the upper back crosspiece. To make the lower shelf you will attach an upright plane along the back and then the other three panes equally placed along the bottom. Now all you've left is making the drawers and adding a sink. Cut a piece of plywood to the size specified and cut two more of the same size to be the drawer front. Install the cabinet hinges and the sink in the end.
Pros:
It comes in a variety of sizes and can fit from small to large bathrooms.
It is very economical.
You can customize it too.
Cons:
The color of the top unit in most of the designs needs improvement.
Less spacious.
---
Menards Bathroom Vanities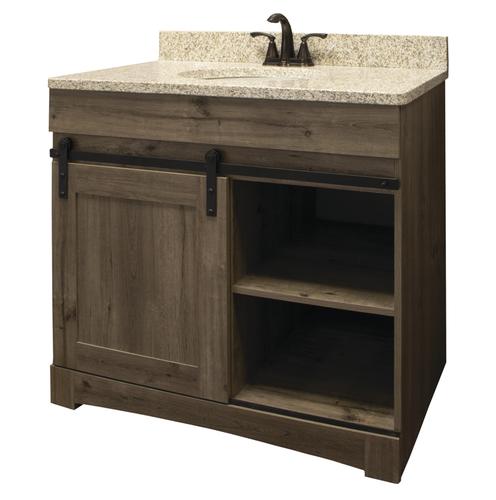 Overview: The Malibu vanity by Menard is the best product available in the market. It is very awesome for the price it comes in. The market prices are 500 $ but the company offers an 11 percent discount. Apart from its official website you can also get it on eBay or Amazon. It has a marble top and a backsplash. Menards also make rusty bathroom vanities for their customers.
Pros:
A toilet paper holder can hold 3 papers.
It has several drawers.
The side shelves are very spacious.
Cons:
The space behind the faucet is very less by design.
The hinges are not of very good quality.
Toilet paper space is almost hidden and is not user-friendly.
Drawers are more in number but are not spacious.
---
Wayfair Bathroom Vanity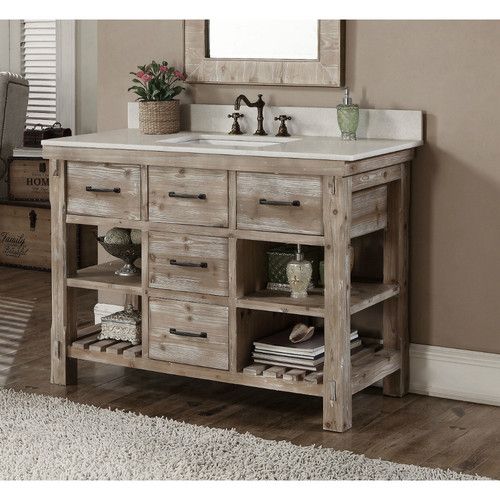 Overview: It is an economical vanity that comes in like 170 to 180 $. The delivery time is normally for 5 days. It is very easy to build and install. Its various sizes are perfect for all types of bathrooms. The drawers available in the Wayfair bathroom vanity are usually very spacious and you can place all of your essential items inside, which would leave you a considerable amount of space on top. The vanity of this company for ladies' bathroom is also very durable and gives a nice look once you see it. It has a mirror on the top that can be used for makeup etc. It also comes with a very comfortable stool. One of the best features is the lights installed around the mirror. There is a small button for ON/OFF on the vanity and you can easily turn it on/off from this button. The lights are of very good quality and very compact size. The glare is not very high so it will not affect your eyes. However, you can also remove some of the lights if it is not comfortable for you. You can get it from the official website and also from Amazon or eBay. They offer several discounts round the year so if you are lucky you may get one at a reduced price.
Pros:
It is very economic.
Easy to assemble and install.
User-friendly.
Drawers are very spacious.
Cons:
Delivery time is more.
Quality is not very good.
---
Costco Bathroom Vanities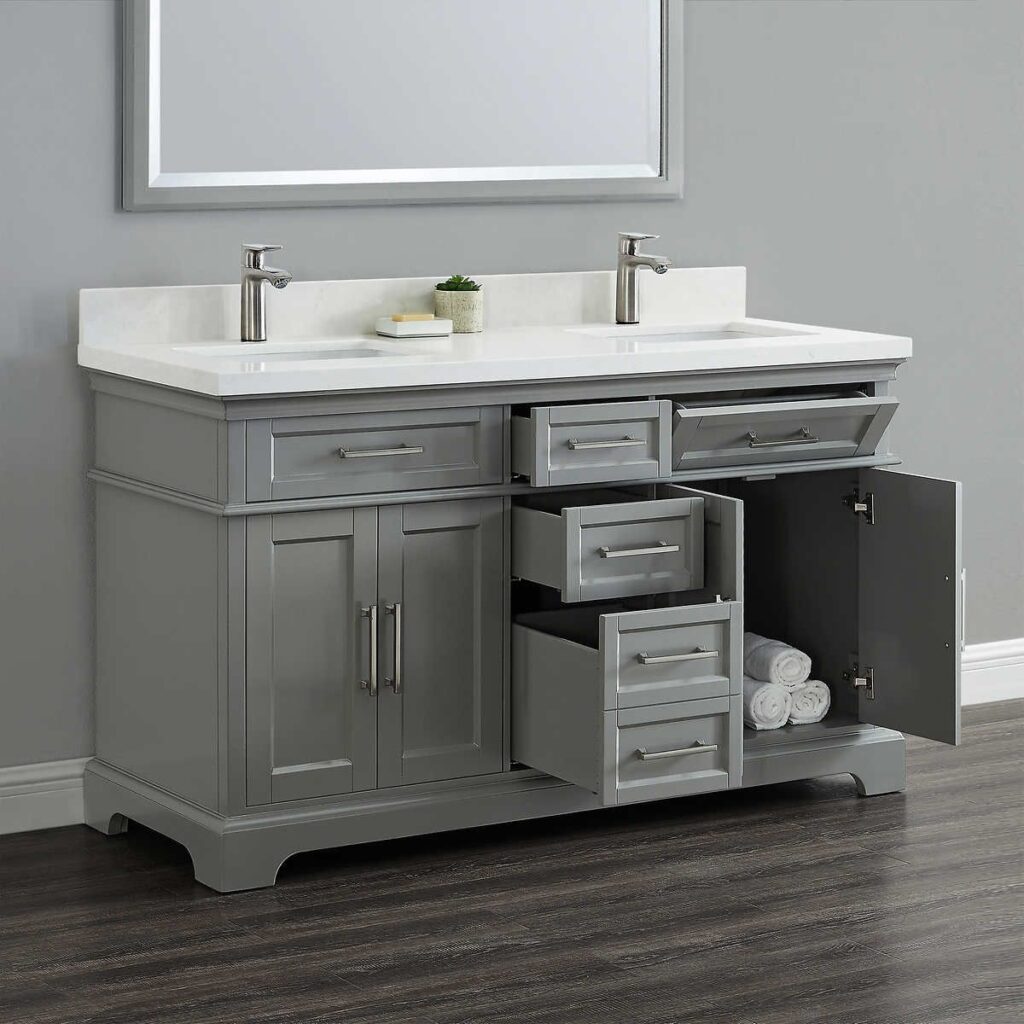 Overview: Costco is one of the best in business and is famous for its unique styles and designs. Costco also offers narrow bathroom vanities which can be fixed easily as per the requirement of the users. The overall quality of its bathroom vanities is the best. All the products are very economical and are easy to assemble and install. Even a single person can install and redo a complete bathroom individually without any help. No special tool is required for the said purpose and a normal toolbox present in every house can be used to install or fix it. It comes with adjustable hinges and can be installed in all types of bathrooms. As it comes in several colors so you can just go into the stores or select online the color which suits your floor or tiles and purchase it for yourself.
Pros:
It is very easy to clean and maintain.
It is suitable for lower-middle and middle-class people too owing to its low prices.
Cons:
The lower bottom of drawers is not tightly secured to the rail and it damages the plywood in most of the cases.
Less spacious to keep the necessary items in it.
---
Houzz Bathroom Vanities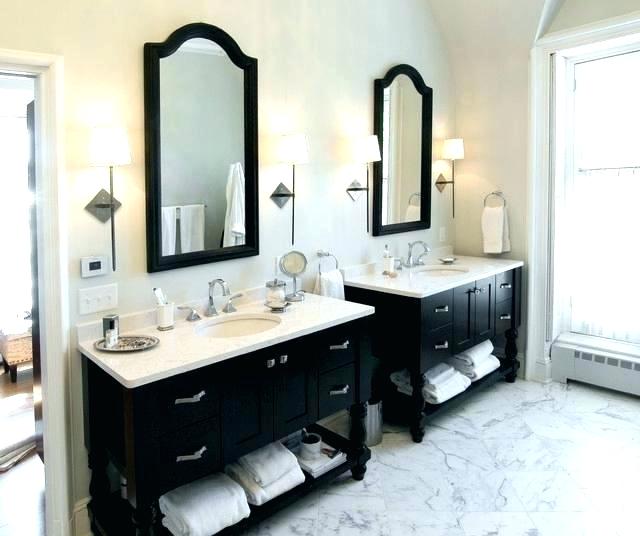 Overview: French bathroom Houzz vanities come in all sizes and colors. Keeping in view the prices it is a very good investment to change the look of your bathroom. It includes flat-panel cabinets, a white freestanding tub, an open shower, black tiles, a sophisticated color sink, and a top and a high-quality faucet. The material used to make these products is pure wood and tops are made of marble. When you open the box/packing and see the product you would realize by just seeing the finishing of its unique and enhanced quality.
Pros:
Easy to carry and install.
Available in all sizes for large and small bathrooms.
Cons:
Not very durable.
The products are usually very sophisticated and are not robust.
---
How to Install a Bathroom Vanity
Putting in a new bathroom vanity is very easy but if you are planning on rerouting plumbing, you might want to call a plumber in for that part. The first step is to take some measurements to make sure that your new vanity will fit. Once you have an idea about the size, make sure you look at all the styles and options in the market. The first step is to turn off the water supply and open the tap and shower to release the water present in the pipes.
Remove the old vanity (if present) by unscrewing/detaching it. This is the ideal time to repair your walls if required. To install a new vanity, start by marking its height on the wall at min three different locations; also mark the width on the wall. This will provide you a rough guideline for the installation. Move in the vanity as per the marking, check its level and adjust if needed. After this attach the cabinet with screws and assemble the sink over it. Add a thin line of silicone adhesive to the edges to secure it. In the end, reconnect the water supply line.
Where to Buy Bathroom Vanities
Here we'll discuss some of the places from where you can easily get good quality bathroom vanities. One of the easiest places to begin, and is most available to the people throughout the country, is going to be any of the big box stores. Stores such as Home Depot or Lowe's as an example are good places to go because they do have floor space with some of their vanities. Another place would be the plumbing supply house. However, these are more difficult to find in smaller areas, but plumbing supply houses, their market is basically for plumbers but they do have smaller showrooms for their customers with a variety of designs. You may also find some of the bathroom vanities at any boutique hardware stores. One of the best places to shop is online. It gives customers the choice to select from a variety of bathroom vanities. The tip here is to buy it from a registered website/firm to avoid getting fake/substandard stuff.