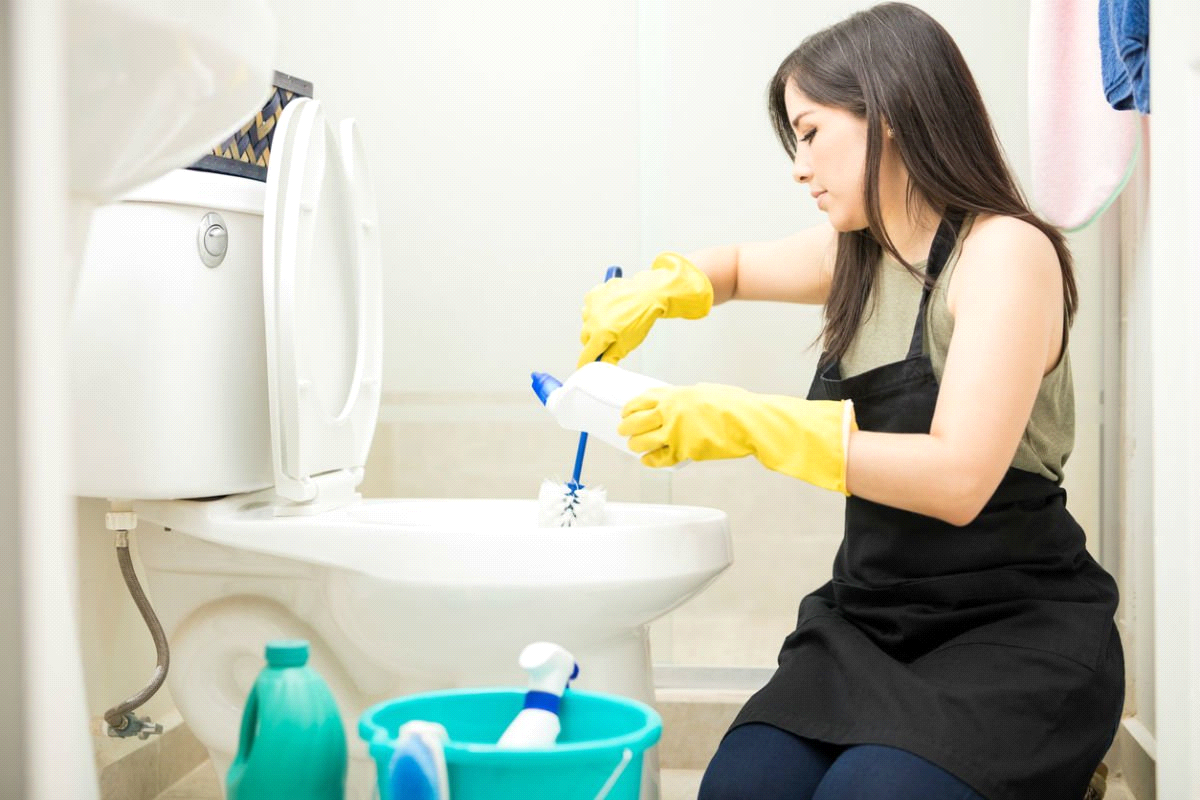 Of all the daily chores, cleaning the toilet is, probably, the most daunting. With all the scrubbing that needs to be done and all the disgust that comes along, this is a no-brainer. Nevertheless, a clean, stainless, odor-less, and limescale-free toilet is a basic necessity of a clean and healthy household.
While a pristine toilet is, obviously, all the more comforting, it also helps prevent many health hazards. A toilet bowl, for one, is the prime place for bacteria and viruses (1) to grow. Although these might not be as contagious as people have conventionally believed them to be, they are still a potent threat.
That's where a toilet bowl cleaner comes in handy! Fortunately and unfortunately, you may come across a seemingly unending aisle of toilet cleaners at any local supermarket. These products differ in their quality, functionality, Eco-friendliness (2), and prices too. Hence, getting around a perfect solution for your toilet problem can be as hideous as the problem itself. In this article, we set about comparing and consequently ranking the best toilet bowl cleaners available.
What makes a good Toilet Bowl Cleaner?
A number of factors should be taken into consideration while distinguishing the best toilet bowl cleaners. While a few factors are more important than others, all of them ultimately add up.
1) Cleaning Efficiency: The most important matrix as far as cleaning goes by. The question is, 'is your cleaner effective against evolved microbes and can remove the limescale at the same time?'.
2) Price: If 2 bowl cleaners have the same productivity and functionality, the one with a lower price tag on it is adjourned better.
3) Longevity: A comparison of prices can be a bit unreasonable, especially when comparing two products of contrasting styles.
4) Eco-friendliness: The least you want is to pour down strong chemicals down the lane. An environmentally friendly cleaner is an obligation to sustainable living (3).
5) Ease of Use: The sole purpose of a bowl cleaner is to ease off the hideous process of toilet cleaner. Not surprisingly, in-tank tablets and cartridges take precedence over gels.
Over 25 top-selling products were considered over the course of this article and each one was judged upon the factors mentioned above, leading us to the 7 best toilet bowl cleaners.
The Best Toilet Bowl Cleaners Reviewed
Kaboom Bowl Blaster Toilet Bowl Cleaner
Bowl Blaster Toilet Cleaner from Kaboom is a perfect solution to stains, even the toughest ones. All you need to do is to stick it inside the bowl. The cleaner dissolves rust hard water build-up and limescale to give you a fresh toilet. Moreover, you can observe cleaning as it takes place, for the cleaner changes color from purple to green when done.
Bowl Blaster Toilet Cleaner has a slanted head to enable access to otherwise inaccessible areas. This way, the cleaner offers a comprehensive clean. Accordingly, the cleaner isn't scented. Add this to it being environmentally friendly, and you have no reason to exclude it from the list.
Pros:
1) Inexpensive
2) Easy to Use
3) Doesn't damage septic tanks
Cons:
1) Use of Conventional toilet brush can cause revulsion
---
Green Works Toilet Bowl Cleaner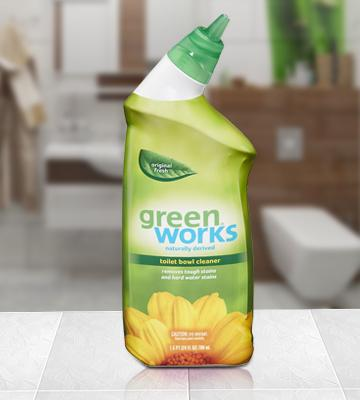 This one is a fully (99%) natural cleaner derived from plants and mineral-based ingredients. That having been said, it is detrimental to unwanted elements in your toilet including but not limited to rust, mineral deposits, and hard-water stains. Compared to others, this one is relatively inefficient at removing tough stains.
As the name suggests, this one has no hazardous impact on the environment. Indeed it is fully degradable and bare of toxic chemicals. To further emphasize eco-friendliness, this product has never been tested on animals. With a really natural scent to it, this one should be your go-to product if you are suffering from various kinds of allergies.
Green Works Toilet Bowl Cleaner has the conventional shape of a gel, with the spout arching out. This enables the gel to be squirted in otherwise inaccessible areas.
Pros:
Easy to Use
Cost-effective
Environmentally friendly
No animals were harmed during the production
Has a natural scent to it
Cons:
Relatively inefficient at removing tough stains (takes more time)
---
Clorox ToiletWand Disposable Toilet Cleaning System
Clorox ToiletWand addresses the need for a partially disposable toilet bowl cleaning brush. This comprises a one-off ToiletWand and numerous ToiletWand refills (6 in this case). The sponges are loaded with Clorox cleaner, which enables them to remove stains and kill germs. Such is the efficiency that, a single refill can kill up to 99.9% of germs.
The product is really easy to use. All you need to do is to get the hexagonal sponge wet and the cleaner does the rest of the job itself. It is worth noting that you can get rid of the used sponge with the click of a button. Compared to a conventional Toilet brush, the Wand is a delicate piece of equipment. It comes with a Storage Caddy that only adds to that delicacy.
Pros:
Easy to Use
Helps you get rid of your nasty toilet brush
Offers an efficient and comprehensive clean
Disposable Refills
Cons:
A touch expensive
Not Environmentally friendly (Scrubbers aren't biodegradable)
---
Zep Commercial Acidic Toilet Bowl Cleaner
This super-concentrated solution is perfect for public toilets (4) requiring frequent cleaning. While other gels may be ineffective, a minimal amount of Zep Commercial Acidic Toilet Bowl Cleaner can help you remove the toughest of stains (including soil and limescale buildup) and get rid of the most resistant microbes. Despite the concentration of active ingredients, the cleaner is environmentally friendly and causes no harm to drain lines, septic tanks, and water treatment systems. Moreover, the cleaner leaves behind a pleasant minty pine scent.
The best part is that you can manually observe the process of cleaning, given that the gel changes color (from bright blue to green) when bacteria have been neutralized. This alongside a built-in squirt top offers a more comprehensive clean.
Pros:
1) Cost Efficient (given that a clean requires a minimal amount of the product)
2) Environmentally friendly
3) Color change on neutralization of bacteria help observe the cleaning
4) Environmentally friendly
5) Leaves behind a pleasant minty pine scent
Cons:
1) Corrodes chrome-finished parts on frequent use
2) Use of Conventional toilet brush can cause revulsion
---
Clorox Automatic Bowl Cleaner Tablets
We are finally into the elite zone. Clorox Automatic Bowl Cleaner Tablet is hands down the most effective single-use cleaner in the market. A single tablet can sanitize and deodorizes the bowl water for 2-3 months! This one kills 99.9% of household bacteria including Streptococcus faecalis, Staphylococcus aureus, Escherichia coli, and Salmonella enterica.
The tablets are pretty easy to use. All you need to do is to flush the toilet and drop the tablet in the rear corner of the tank. Within 5 minutes, the tablet would start terminating germs. The product, however, does contain bleach and can stain rugs, towels, etc. If used over the long term, this one can damage the toilet itself. Surprisingly though, the product has no environmental implications.
While Clorox Automatic Bowl Cleaner Tablets may be really efficient in killing microbes, it is better to avoid long-term usage. That's probably the only reason why the product ends up shy of the top 2.
Pros:
Easy to Use
Cost-effective
Most efficient germ terminator
Deodorizes
Environmentally friendly (doesn't even damage septic tanks)
Cons:
Possible damage to the toilet itself (nuts, bolts, flappers)
Too chemical to touch with bare hands
Can cause allergic reactions
---
Kaboom Scrub Free Toilet Cleaning System
This toilet cleaning system from Kaboom emerges as Runner-up given the ease of use and effectiveness of the product. Why is Kaboom Scrub-free toilet cleaning system so effective? Unlike other products, this one doesn't let bacteria enter the tank.
The cleaning system consists of a cartridge with water purification tablets. All you need to do is to install the device in your toilet's tank and the cartridge would take you through the next 3 months. All in all, the bowl stays clean with literally no effort!
Addedly, the product offers a superior clean thanks to the OxiClean formula. So basically, in Kaboom Scrub free you have an efficient cleaner (germ terminator and deposit cleaner) that is easy to use and is relatively cheap!
While the product may be one of the best the market has to offer, it doesn't come without drawbacks. The tablets can damage the nuts, bolts, and valves. This though should be an afterthought because as a buyer your primary concern would be the tubing. The tubing doesn't fit many toilet tanks. The least you'd want is to splash out cash on a product you can't use. That having been said, most users of the product have a problem with the pungent smell with some describing it as 'unbearable'.
Pros:
Cost-effective
Easy to use
Efficient at Cleaning
Easy to install
Cons:
Can damage the toilet (flapper, valves, nuts, bolts, etc)
Extremely pungent smell
Doesn't fit to all Toilet Tanks
---
Lysol Power Toilet Bowl Cleaner
Coming from the house of Lysol, Power Toilet Bowl Cleaner edges out Kaboom Scrub free toilet cleaning system to claim the top spot. What is it that makes Lysol Power Toilet Bowl Cleaner better than others? Firstly, this one is relatively inexpensive. Priced at almost $2 a pack, this is one of the cheapest solutions to your tantrums!
Lysol Power Toilet Bowl Cleaner consists of a really powerful solution, ensuring cleaning efficiency. The product can terminate the germs and get rid of stains at the same time. Talking of germs, the product is advertised as being able to disinfect 99.9% of germs. This is aided by the slanted head of the product, making it easier to reach otherwise inaccessible areas.
Despite the concentration of the solution, it has no hazardous impact on the environment. Neither does it leave behind a pungent smell. Instead, the product deodorizes the toilet with a fresh scent.
Pros:
Cheap
Ease of use
Efficient at disinfecting germs
Environmentally friendly
Has a nice scent
Cons:
You may need to use your 'nasty' toilet brush for scrubbing
Given the balance of pros and cons in favor of Lysol Power Toilet Bowl Cleaner, it isn't surprising that the product ranks as a bestseller as far as Cleaners go by.
Which Toilet Bowl cleaner should I use?
The above ranking shows that Lysol Power Toilet Bowl Cleaner is the best bowl cleaner available in the market, followed by Kaboom Scrub-free toilet cleaning system. While this is as accurate as it can get, based on our ranking factors (already mentioned above), there are always a few exceptions. For example, in case you are looking to get rid of the bad odor, you may want to try your hands at Lysol Click Gel Automatic Toilet Bowl Cleaner. Unfortunately, the product failed to make it to our list.
Similarly, a person trying to get rid of rust may not find as much success with any of this lot when compared to Lime-A-Way Liquid Toilet Bowl Cleaner. Each of the cleaners available in the market serves a particular purpose and you may need to figure out what purpose you need serving. Below is the list of possible requirements, matched with Toilet Bowl Cleaners.