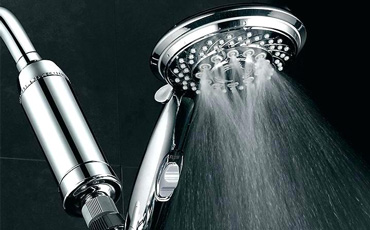 The best shower filter improves your appearance. Hard water is bad for the skin and makes it dry. I use it to color my hair when I get bored with it. But with a water softening shower head, you can improve your skin and hair without having to install a filtration system throughout
your Home. Here we have collected some useful info about filters and also collected the best available filters for you
What Is a Shower Filter?
A shower water filter is a piece of bathroom equipment for reducing and removing heavy metals, pesticides (1), chlorine (2), etc. while making your water softer. Such units improve the quality of the water you use while taking a shower and therefore, reduce the chances of skin irritation (3).
Shower water filters have other essential characteristics as well. These units purify water while preventing your shower from getting blocked with unwanted particles. Moreover, shower water filters will reduce the chances of scale buildup and soap scum. Hence, maintaining and cleaning your handheld or fixed showerheads will be a straightforward process.
Benefits of Using a Filter
If you filter your drinking water to avoid potentially harmful chemicals, it's not a huge leap to consider a shower water filter. According to Olga Naidenko, Ph.D., a senior science adviser at the Environmental Working Group (EWG), chlorine, a by-product of water disinfection, is commonly found in municipal water supplies, as are hazardous volatile organic compounds (VOCs), including the carcinogenic trichloroethylene.
These chemicals don't have to be ingested to cause health problems, she says, as studies have shown that lifeguards and frequent swimmers at indoor pools with high levels of chlorine have experienced problems such as exacerbated asthma symptoms. There are also aesthetic reasons for filtering your shower water. "Many people notice that their hair is drier when they shampoo with hard water, that it frizzes more easily, and that not as much lather is created," says Anabel Kingsley, a trichologist (hair and scalp specialist), at the Philip Kingsley Clinic.
Hard water contains minerals like calcium and magnesium that can dry out the hair and skin. Water softeners and filters can remove these elements to relieve issues like dry skin or dandruff. Luke George, the founder of the site Mr. Water Geek, says shower-filter users find that they have "softer hair and skin, hair color that lasts longer and is better able to maintain its gloss and shine."
Best Shower Filters Available in 2021
Sprite High Output Shower Filter
In a red (or redox) filter like this, a copper-zinc alloy performs chemical conversion into harmless substances by replacing electrons with impurities including metals such as lead and mercury. The most common type of redox substance is the patented Kinetic Degradation Flux Formula (or KDF). According to Alexander Venet, founder of the Molecule Project, a water filtration company, KDF is the right way to go. Carbon filters "absorb" chlorine and other contaminants, but KDF works differently. Venet explains: "It contains granular copper and zinc which converts ions to chlorine and to chlorides that are harmless."
It also helps kill bacteria, he added. "As soon as the bacteria come into contact with copper and zinc, they will die," Venet says the sprite filter is the best. "They are doing well. They use KDF-55. Copper is expensive, so don't cut corners with KDF-55." This filter is certified by the National Institute of Sanitation. According to Stefan Buck, manager of the filter business unit at NSF International, this means that the filter meets the health and safety requirements of the organization "for chlorine reduction, material safety, and structural integrity". Despite being a high-performance filter, this also comes with a showerhead and is included in the built-in model as you can easily replace the old shower head if desired. If you like the white look, Sprite also offers a chrome version (no extra heads).
---
Culligan ISH-100 Inline Shower Filter
Many shower filters use carbon to absorb harmful substances. "Activated carbon can bind to all types of chemicals, trap VOCs, reduce chlorine levels, reduce various types of metals, but cannot remove," said Naidenko, who recommends the George Culligan filter. According to George, the Culligan filter "is easy to install, fits most standard showerheads, and is not as bulky as others." This NSF-certified linear model is compatible with conventional showerheads and combines carbon reduction and active oxidation technologies to filter contaminants and reduce bacteria.
---
Kohler Aquifer Shower Water Filter
Kohler's new Aquifer shower filter is a great alternative to a company renowned for its bathroom and shower fixtures, said Brian Muffia, director of showrooms at General Plumbing Supply, Inc. However, he points out that this only works if you take a hand shower. The Mafia repeated what other experts said about the properties of chlorine drying, saying, "It improves the smell of water and removes chlorine, which can remove hair from many natural oils." "When you come out of a chlorinated pool, your skin becomes very dry," he added, adding that filtering out the chlorine water in the shower makes the skin "softer and less dry". People can see a 100% difference. The water looks softer. "Like Culligan above, this Kohler model uses carbon filtering and KDF.
---
AquaBliss High Output 12-Stage Shower Filter
If you need more filtering, this AquaBliss filter is highly recommended by Danny Lipford, host of national TV and radio shows for home improvement. As Lipford explains: "The multi-level shower filter removes a lot of material, but most importantly, chlorine and other minerals that can affect skin, scalp and hair health." He loves that this model has the special properties of being "easy to install, providing quality filtration at an affordable price" and adding vitamin C and other mineral-friendly skin minerals as an "additional" bonus. In the shower water."
---
Geekpure 4 Stage Showerhead Shower Filter
If you want to get rid of pollution without exceeding your budget, it's worth a look at the Universal Geekpure 4 Stage Universal Hand Shower Filter. It has an internal filter that removes chlorine, hard water, and odors as vitamin C is added to the skin.
This portable device doesn't lower the water pressure, so you can always enjoy the same spray. Available in blue, orange, or pink, it's a fun addition to a kid's bathroom. This unit does not have a hose, but it is connected to an existing shower hose.
---
Pure Action Water Softener Shower Head
This showerhead may be the best choice for homeowners or tenants who are concerned that the built-in filter can damage old pipes. People with older plumbing systems may want to hold the hose water pipe lightly to avoid cracking or damaging the pipe when installing filters. The built-in filtration system is designed for chlorine, fluorine, and chloramine. It also softens the water and removes rust, metal, and other deposits.
Three settings (rain, heavy rain, and massage) can reduce water consumption, saving water bills. However, smaller cartridges may need to be replaced more often than other cartridges, which are slightly more expensive (new filters sold separately).
---
T3 Source Showerhead Mineral Water Filter
Hairdresser Christie Wilczopolski also recommends using a water filter in the shower to improve the overall condition of the hair. Hard water contains a lot of calcium and minerals that accumulate in your hair over time. Shower filters remove unwanted toxins, chlorine, minerals, and contaminants. Wiltzopolski personally uses this T3 filter, which is easier because the filter is integrated into the showerhead itself. "I'm getting clean, clean water without adding debris to my hair," she says. It uses a redox filter system that uses copper, zinc, and calcium sulfide.
---
AquaHomeGroup 15 Stage Shower Filter with Vitamin C
This in-house water filter from AquaHomeGroup is designed to improve skin and hair quality and remove chlorine, bacteria, and other contaminants from spring water. Step 15 contains coconut-activated carbon, KDF, calcium sulfite, and vitamin C to provide clean bathwater that won't damage your skin, hair, and nails.
It comes with two filters that AquaHomeGroup suggests to be replaced every 6-8 months. This is one of the most durable ink cartridges on the list. When it comes time to replace, you can purchase a multipurpose cartridge (sold separately).
---
PureAction Vitamin C Filter Shower Head with Hose
PureAction's Vitamin C Filter Shower Head adds herbal medicine to your filter media. Tourmaline can improve mood and metabolism. Negative ion beads can improve skin condition. Lemon filters infused with vitamin C, according to the manufacturer, can improve skin focus and detoxification. Zeolite beads remove heavy metals, chlorine, and fluorine.
This portable unit comes with a hose that can be easily connected to a separate hose tube. The transparent plastic construction makes an interesting and fun design. Vitamin C filters should be replaced monthly and filter bowls should be replaced every 3 to 4 months (both sold separately).
---
Final Thought
While science makes it clear that the threats to health and the aesthetic benefits of bathing in contaminated water are real, unlike buying and maintaining an expensive water purification system throughout your home, shower filters are a small investment that makes a big return on investment. You have nothing to lose and there is a huge benefit to get, so it's worth it.