6 Best Flooring for Bathroom [Buying Guide]
Bathrooms are one of the most used rooms in any house, and their maintenance and cleanliness should be taken into consideration by everyone. While building a new house or changing your bathroom's style, the first thing is always the appearance. Thanks to the latest technology that many new interior designs and ideas have been introduced that make your bathrooms eye-catching.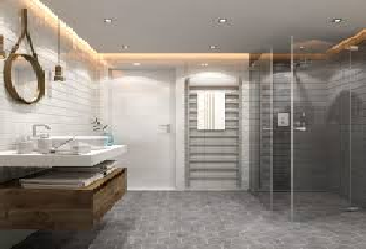 Choosing the best flooring for your bathroom that is highly durable and can withstand any kind of dirt, moisture, and humidity is always a difficult task. But don't worry! We have made it easy for you by compiling some of the best flooring for bathrooms along with their buying guides in this review.
Bathroom Flooring Buying Guide: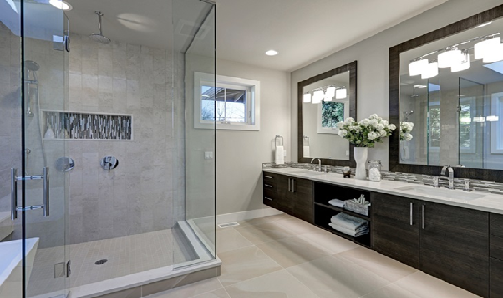 Budget:
Your budget plays the main role while choosing bathroom floorings. Many people want to create a luxury-style bathroom, but they can't afford such expensive flooring. However, many bathroom flooring options also come in a limited budget. So, always make a proper budget plan keeping in mind that you will need to spend an extra amount on installation and necessary materials. If your bathroom is small, you won't really have to spend a lot of money because it would not require many tiles. In this way, you can choose expensive and long-lasting tiles for your bathroom. If you have more budget, you can easily buy highly durable and resistant flooring with beautiful designs that can embellish your bathroom!
Hardness:
If you live in a big family or have little children, the hardness of the flooring is the most important factor for you. Many bathroom floorings are not resistant enough to withstand foot traffic and can easily absorb moisture, making the flooring to swell. These floorings would not last for long time and eventually, you'll have to change it. Hard flooring can withstand tough conditions easily including sunlight, moisture, and foot traffic. They are highly durable and stain-resistant. So, whenever looking for long-lasting bathroom flooring, always choose the one with more hardness. However, if you have a small family or you will change your house for some time, you can choose the flooring that is less hard.
Design:
The design of your bathroom's flooring adds much glamour to its look. Of course, appearance is the first thing that matters in bathroom floorings. You should choose the best designs and colors of your bathroom flooring that matches your needs. Choosing unique designs and colors for your bathroom can make it outstanding from the house! Many eccentric bathroom floorings with light and dark colors are available in the market that will boost your bathroom's appearance. Different flooring designs can be applied to different bathrooms in the house like the master bathroom, guest bathroom, and kids' bathroom. You can apply different styles and colors to each bathroom in the house to make it unique.
This buying guide must have provided you some important information about choosing the best bathroom flooring. Let's review some bathroom flooring options that would prove beneficial for your bathroom!
1. Ceramic and Porcelain Tiles: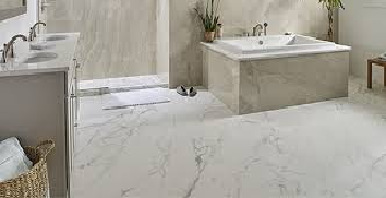 Bathroom tiles have gained much value in the past many years as they are reliable, long-lasting and add a unique and unmatched style to your bathroom! Porcelain and ceramic tiles have been considered to be the best flooring for bathroom due to its multiple benefits. Prior to being durable and versatile, these tiles can withstand foot traffic and is easy to clean.
Ceramic and porcelain tiles are made from a mixture of clay materials and water. After shaping and drying them, these tiles are furnished with intricate designs and patterns. In addition to design, these tiles provide much versatility to consumers as they are waterproof and moisture resistant, don't absorb bacteria, and can easily be cleaned.
The ceramic tiles are cold, and you won't be able to able to stand on them for a long time barefoot. They can also become stained like all other tiles if not handled with proper care. They give a rich and solid feeling like stones. These tiles would be best for master bathrooms due to their high durability and eye-catching designs! If you are looking for hardwood flooring, you can even purchase ceramic tiles that look exactly like wood.
Although they are expensive and difficult to install, they can last a lifetime! These tiles need to be installed on a smooth and rigid subfloor. They are available in a wide range of shapes and colors with beautiful designs that boost up your bathroom's appearance. They are an excellent choice for showers and bathtubs due to their water-resistant capability.
Pros:
Tough-bodied.
Extremely durable
Water-resistant
Intricate designs and colors.
Easy to maintain.
Cons:
Difficult to install.
Feels cold to stand or touch.
2. Vinyl Bathroom Flooring: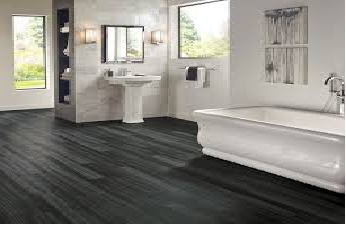 In today's technology, vinyl flooring has gained much importance and is said to be the best bathroom flooring of all times. This bathroom flooring comes in many types, tile, sheet, and plank. All have their own pros and cons, but they are much reliable than all other bathroom floorings in the market.
The first advantage of this flooring is that is it cheaper than the porcelain and ceramic flooring. They are also easy to install, so, you won't have to buy expensive tools for your flooring installation. Vinyl flooring can easily withstand water and moisture, so they would be quite beneficial for children's bathroom or laundry rooms where heavy foot traffic and water is observed.
Just like the ceramic and porcelain tiles, they are perfect if you are looking for long-lasting bathroom flooring. The vinyl planks are also more durable than engineered hardwood. It actually looks like hardwood, but don't worry, it won't absorb moisture and will stay in its place for many years! It feels warm and soft and you won't slip on it.
Pros:
Waterproof
Neither cold nor slippery
Easy to install.
Low on budget.
Variety of colors and designs.
Can withstand moisture.
Cons:
3. Laminate Flooring: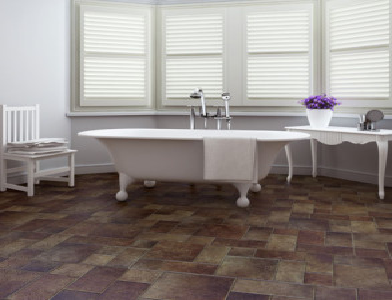 Laminate flooring is also a better choice for bathrooms if your bathrooms observe heavy foot traffic. In many ways, it has proved to be better than solid hardwood. It is user-friendly and at the same time, gives an elegant look to your bathroom. It is not cold to touch and is water-resistant. It comes in a wide range of colors and unique designs to add an amazing look to your bathroom!
An important factor of laminate flooring is that it is super-easy to clean. It can be the best choice if you want flooring for your kid's bathroom. Moreover, its warmth and sleek designs always add glamor to your bathroom. Laminate flooring also does not scratch or gets dents. So, feel free to use blow dryers and curling rods or even drop them. laminate flooring will keep you safe for them.
Laminate flooring is also available in slate and tiles look. So, you don't have to spend so much money on ceramic tiles when your bathroom can have that look with laminate flooring! However, laminate flooring can become slippery, so you'll have to use a rug or mat near the bathtub to avoid slipping.
Although they are much cheaper than the ceramic and porcelain tiles, they can absorb moisture when exposed to excessive water. Some brands claim that it is water-resistant, but it cannot be repaired if damaged. So, it won't be able to last a lifetime.
Pros:
Easy to install.
Low cost.
Variety of styles available.
Easy cleaning.
Does not feel cold to touch.
Cons:
Slippery when wet.
Not much waterproof and can absorb moisture when exposed to excessive water.
Cannot be repaired once damaged.
4. Engineered Hardwood: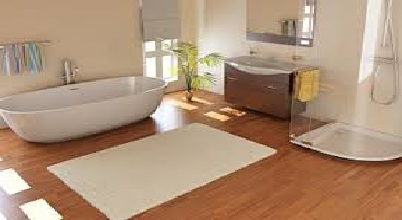 Engineered hardwood is a better option for you if you want your bathroom flooring to have natural wood. Out of all the hardwood options, engineered hardwood is the best choice for any bathroom because it can withstand moisture better than the solid and plywood.
In terms of cost, engineered hardwood is expensive than laminate flooring. Engineered hardwood can last for much longer years depending upon the thickness of the plank. It can also be applied over the existing bathroom flooring and can resist water. However, wood flooring is not a much better option than tiles as they can absorb moisture in heavy foot traffic. Also, wood products are also likely to suffer from damage in bathrooms.
Engineered hardwood flooring is much easier to install and you can even install it yourself. So, you won't have to buy expensive tools or spend so much time and money on installing it. Also, hardwoods have become one of the most popular and modern flooring options for bathrooms, so, they can probably increase your property value.
Pros:
Dimensionally stable.
Easy to install and clean.
Water-resistant.
Real wood flooring for bathroom.
Can be installed over existing floors.
Environment friendly.
Cons:
Hard to repair once damaged.
Not waterproof.
5. Natural Stone Tiles: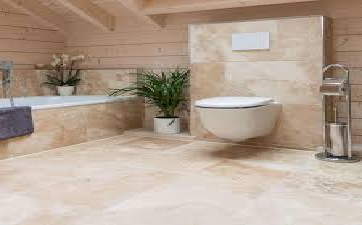 Natural stone tiles flooring is obviously a better option as they take your bathroom's appearance to another level! Stone tiles have always been considered to be the best flooring in terms of designs and patterns. They are super-easy to clean and give an embellishing look to your bathroom.
They can be the best choice for your master bathroom or even guest bathroom as they are highly durable. There is a vast variety you can choose from for your bathroom like slate, marble, granite, and limestone. If you are using stone tiles for your kid's bathroom or laundry room where heavy foot traffic and water is observed, we advise you to have a sealing on the stone tiles to make them long lasting.
The natural stone tiles resist stains, bacteria, and odor. They are also easy to clean as they have a very smooth and rigid surface. However, stone tiles require occasional sealing because they can get stained or cracked. Also, they can be cold to stand on for long periods if radiant heat is not provided underneath. Some stone tiles can be slippery depending on the type of stones you choose. To avoid this, choose naturally textured stone with tumbled finish to add a sleek look to your bathroom as well.
Pros:
Highly durable.
Water-resistant.
Excellent resale value.
Many varieties of stone tiles are available.
Sleek design.
Withstands moisture.
Cons:
Expensive.
Requires regular cleaning and sealing.
Cannot install yourself.
6. Linoleum Bathroom Flooring: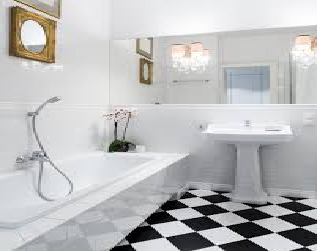 Linoleum flooring is the best flooring option you need to consider when you are refurnishing or designing your bathroom. It has gained much importance sur to its high durability and variety of sleek designs. This bathroom flooring adds much attraction to your bathrooms.
While many people think that vinyl and linoleum are same, but that not true. They are different from each other. Linoleum bathroom flooring comes in a low price and is highly durable and water resistant. Linoleum flooring is also considered to be eco-friendly. When looked after properly, the linoleum bathroom flooring can have a life span to almost 40 years. A protective top layer on the flooring can also protect the material from dirt and moisture.
Linoleum flooring looks like wood, but it is highly water-resistant and can withstand heavy foot traffic. Also, its easy to clean versatility make it a perfect flooring option for everyday use. Linoleum flooring has proved to be the best flooring in terms of maintenance, as even a gentle mop on its top protective layer can clean the tiles quickly and take away any dirt.
This bathroom flooring is much cheaper than laminate flooring and is now available in a wide range of stylish colors. It is soft for barefoot and is also a hygienic choice.
Pros:
Hygienic.
Easy to clean.
Cheaper than Laminate flooring.
Eco-friendly.
Has anti-bacterial properties.
Water- resistant.
Free of solvents and VOC's.
Cons:
Not waterproof.
Can get stained.