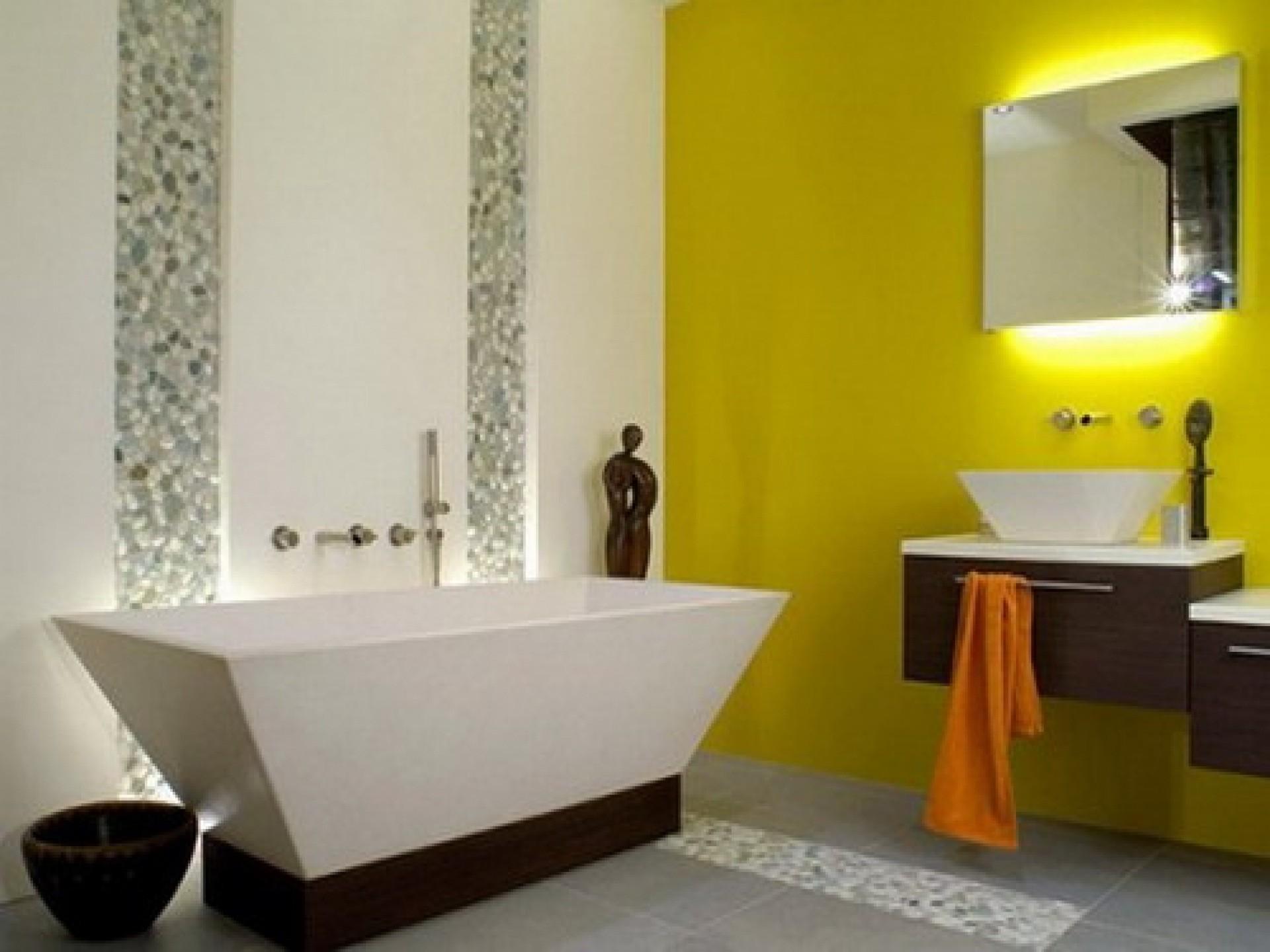 Choosing the best paint for your bathroom not only gives an elegant look to your bathroom interior but also resists excessive moisture. Choosing the best bathroom paint is not a big deal in the case of colors. There are so many different brands that offer a vast range of colors, but the ideal factor is the durability and quality of paint.
Some people might not consider it, but bathroom paints play a more important role than any other room paints, as they need to be more durable to withstand different conditions.
Bathroom paints are not much expensive than standard paints, so you won't have to compromise even if you have a low budget. We have compiled below a complete buying guide with beneficial tips for your bathroom paints. We hope it will be useful for you.
What to look for in Bathroom Paints?
Moisture resistance is the most important thing to look for in any bathroom paint. This is because bathrooms are the most used rooms and have to bear excessive water. If you use standard paint in your bathroom, it will soon rip off, giving a very bad look to your bathroom. Moisture-resistant paints not only withstand moisture but also give an amazing look to your bathroom by staying in its place for years.
Anti-Bacterial Properties:
You can find anti-bacterial properties in almost all bathroom paints. That is because it is a very important factor. Imagine going into your washroom and finding out that all the walls are covered with bacteria and mild dews giving a scary appearance to your bathroom and a bad odor as well.
To avoid these circumstances, bathroom paints are specifically designed with antibacterial properties because the bathroom has to bear a high amount of water and moisture easily grows mildews and molds. To ensure hygienic measures, choose the paint with the best antibacterial properties.
This factor might be confusing for some people, but it is much valuable. Since bathroom walls need regular cleaning due to heavy foot traffic and even need scrubbing, paint with a hard texture would be suitable for long-term use.
Hard textured paints don't tear down quickly and make your bathroom look new even after cleaning the walls. Additionally, they also prevent moisture from absorbing into them, ensuring anti-bacterial properties for your bathroom. They provide much convenience as you won't have to change the wall paint after every few months as they can last a lifetime!
Choosing a color for your bathroom walls is not a difficult task as there are so many different brands providing varieties of different colors for your bathroom.
You just need to choose the color that matches your bathroom's interior and your taste. However, it is recommended to choose soft colors if you have a small bathroom as they make the bathroom look spacious. Hard colors are often used in large bathrooms, master bathrooms, or guest bathrooms.
After reading the buying guide, you must have gained much knowledge about the bathroom paint that you always wanted for your bathroom. To make it more convenient, we have listed below some top brands that provide the most durable and high-quality bathroom paints.
1. Dulux Easycare Bathroom Soft Sheen Emulsion Paint:
The Dulux Easycare Bathroom Soft Sheen Emulsion Paint is a great choice for long-lasting paints. It is specifically made keeping all the hygienic measures in mind. It has an impressive MouldTec formulation that protects your bathroom walls from molds, mildews, and bad odor bacteria for almost 5 years! It has amazing hygienic properties and would be great to use in any bathroom.
Moreover, it has an amazing hardness property, allowing the paint to withstand excessive moisture and steam in the winter season. Don't worry, this durable paint won't get damaged even after years of usage. Its hardness property also enables it to stop any growth of bacteria, ensuring hygienic measures for you and your family.
It comes in a wide range of elegant colors, giving a sleek and elegant look to your bathroom. However, two layers of this paint should be painted for a more durable finish. This matte paint gives your bathroom walls a soft sheen finish, drying quickly in just 24 hours. It repels any kind of steam and moisture instead of soaking them, making it a very good choice for bathroom walls and ceilings.
This durable wall paint has no obnoxious fumes and is very easy to apply with no spilling or splattering. Obviously, a great choice for any bathroom wall!
2. Rust-Oleum 7791730 Protective Enamel Paint:
Rust-Oleum is known for many years as it provides high-quality paints with a long-lasting and elegant finish. This Rust-Oleum protective enamel paint will impressively protect your bathroom walls from any kind of bacteria or mildews. It covers all the hygienic measures and is highly resilient for bathrooms with heavy foot traffic.
This paint is highly water-resistant as it is an oil-based paint. These paints contain oil as well that does not mix with water, making your bathroom walls totally waterproof!
Another amazing characteristic of this paint is that it is resistant to fading and chipping and you won't have to face flakes falling off your bathroom walls. It is resistant to rust as well, maintaining your bathroom's elegant look for many years.
This enamel paint can be used in any bathroom as it has a hard texture and will stay in its place for many years. It dries up quickly in 2-4 hours and this one product can cover an area of 55 square feet. Its Satin finish offers a low sheen look and its superior coverage gives a lasting beauty and protection to your bathroom walls.
This protective enamel paint is available in a variety of colors, so you can choose your favorite according to your taste. It has been regarded as the No.1 rust-resistant paint, making it an amazing and long-lasting durable paint.
3. Ronseal AMPWM25L Anti Mould Paint:
The Ronseal anti-mold paint is one of the best bathroom paints due to its amazing anti-bacterial properties. This paint can be used in the kitchen as well as the bathroom, as it can withstand excessive humidity and still stay as fresh as new. It comes in white color, giving a matte and elegant look to your bathroom. It would be a great choice if you want a decent bathroom interior with white walls and ceilings, including all the qualities of durable bathroom paint.
It has anti-mold emulsion properties, taking hygienic measures to another level, by protecting your bathroom walls against the growth of bad-odor bacteria, mildews, and molds. Keep your house and family safe with all the safety measures.
This super durable emulsion paint quickly dries in 2 hours of application and can cover 13 meter-square in one liter. However, this box will contain 2.5 liters of paint. This anti-condensation paint forms a slightly hydrophobic layer that reduces the build-up of condensation and contains active ingredients that prevent the growth of molds.
This paint is also compatible with previously painted surfaces and can be applied on wallpaper as well. However, it has a thick consistency that may cause difficulty while applying it in an even layer. It has a water-based nontoxic formula, allowing it to be used in any environment. It is very easy to clean and even hard brushes won't damage the paint layer as it has a hard consistency. This paint is highly durable and is a great choice if you are looking for long-lasting wall paints.
4. Polycell Damp Seal Paint:
This Polycell damp seal paint is perfect for you if your bathrooms face excessive water and moisture and you're tired of changing the paint after every few months. This is an ideal paint to use in damp environments as it easily covers all the patches. Don't worry, they won't appear again with this paint! It imparts an impressive coverage of up to 14 meters square per liter.
This durable wall paint will provide an elegant matt finish to your bathroom walls and ceilings. So, you won't have to apply a topcoat or even a primer on this one.
This paint is extremely thick and has a gluey texture, which will probably make it hard to apply. But this paint will never go off when you cover the patches and will stick to it like hard glue! However, this paint might smell bad, but it will go away after a few hours.
Although it has a thick consistency, it can easily be applied with a brush for do-it-yourselfers. Its thick texture forms a hard layer on the wall, preventing any growth of bacteria. It is also water-resistant, so it can be used as a reliable product for lifetime use.
This product comes in a variety of supplies, 500mL, 1L, and 2.5L cans for use in small as well as large bathrooms. So, don't compromise on this product, it will fulfill your budget as well. In addition, the aerosol spray damp sealer can help provide an easy application of this paint.
It requires only one coat and can last for many years, avoiding the trouble of changing wall paints again and again.
5. Dryzone Anti Mould Paint:
The DryZone anti-mold paint is a high-quality paint as it was manufactured while keeping all the bathroom paints requirements in mind. This paint is also cost-effective, highly durable, and stain-resistant. Its high performance provides flexibility to owners to easily control mold growth. It is safe to use even in damp places, as its impressive anti-bacterial properties won't let any black mold or mildews grow on your walls. If molds are grown, they can be easily cleaned with the DryZone 100 Mould Killer Spray, purchased with the paint can. So, this paint will cover all hygienic measures and will always ensure the safety of your family.
It is effective against persistent condensation and will resist mold growth for up to 5 years on your bathroom walls! It is very easy to apply and would require only one coat for long-lasting durability. It does not have much odor and is quickly dried after application. This paint comes in two sizes, a 1 Litre can that covers 10m² – 12m² and a 5 Litre can that effectively covers 50m² – 60m².
Like all paints, it also has a thick consistency. If you face difficulty while applying an even layer, mix clean tap water but do not exceed 10% by volume. It is compatible with all types of paints whether emulsion, silk, or vinyl. It comes in a wide range of different colors and is easy to clean.
Conclusion:
While choosing bathroom paints, you must make sure to have an elegant, high-sheen paint that effectively resists mold growth and moisture. Choosing the right paints, as listed above, won't make you ever regret it and will last for longer years than you could expect!