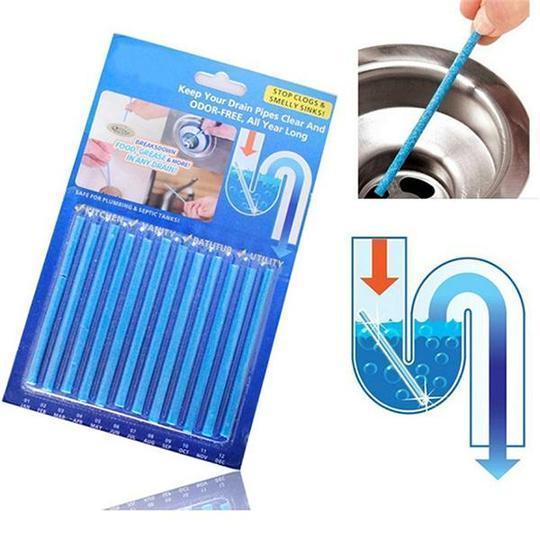 The plumbing systems start facing problems over time. These problems need to be solved quickly as the wear and tear will cause sewer gases to escape, producing a bad odor. These smells are disturbing and disgusting. Two of the common plumbing issues are clogged drains (1) and unpleasant odors. The plumbing issue in the sink is more annoying as the unpleasant odor is extremely strong and the clogged drains can get worse if not fixed on time.
Insects like drain flies and snakes can also clog up the drains and attack the materials in the sink, creating an unpleasant odor in the house. The clogged-up drains can also cause the water to back up in the showers and it will disturb your shower experience. In bathrooms and utility rooms, smelly materials like grease, oil, chemical materials, and clogged-up sewage in drains build up to harmful gases like methane (2). Besides producing unpleasant odors, these gases are flammable and can cause a fire.
If you face all these problems, you must have been tired of calling the plumber again and again and paying a substantial amount of money on maintenance. However, you can also solve these problems by cleaning the drains in an easy way by using natural cleaners. One of the best natural ways of cleaning these clogged-up drains is using Sani Sticks. The powerful enzymes in this product quickly clean the clogged drains and eliminate any bad odors that may arise.
Sani Sticks has got a great number of positive reviews as many customers claimed that they really liked the fact that Sani Sticks quickly made the drains clean and removed the unpleasant and disgusting odors from their bathrooms and sinks. It is perfectly designed to stop the safety issues around the house. But before getting further into the details, let's know more about drain clogging.
What are the Common Materials that Clog the Drains?
Some of the common materials that cause the drains to clog up and lead to plumbing issues are:
Oil
Grease
Soap scum
Hair and sludge
Animal bodies like snakes
Drain flies
Animal fat
Food particles.
These materials when passing through the pipes, clog them and create blockages, resulting in restricted water flow. As a result, water will start to back up in the shower and tub.
What Problems do Clogged Drains Cause?
The main and disturbing problems we face due to clogged drains are:
Dry drain pipe traps
Leakage of pipes
Backed up sewer system
Inadequate vent pipes
Corrosion on pipes
Cracked pipes
Worn out toilet tax rings
Unpleasant drain odors
Disjointed drain pipe connections
Which Areas are Affected Due to Clogging?
The bathroom drains and kitchen sinks mainly suffer from clogging and bacteria buildup. Regular shower, powder rooms, and infrequently used guest bathrooms can also build up unpleasant smells in the drains.
What are Sani Sticks?
Sani Sticks are used to clean up the drains and remove bad odor in the house. These are long, thin, circular skewer-like sticks, each 6 inches long. They come in packages of 48.
So now, let's talk about Sani Sticks which are well-acknowledged for cleaning and clearing of drains and removing the disgusting odors from the drains and pipes. These sticks come in a pack of 48 and each stick is thin and 6 inches long. This makes them very easy to use in all sorts of cleaning related to drain clogging.
Do Sani Sticks work?
We were also really confused like you as this is a sort of different product than other drain cleaners and people are not sure if it will really work. But the answer is yes! Sani Sticks works amazingly in drain cleaning.
We searched about the product and found out that it contains potent and slow-releasing biodegradable enzymes (3). These enzymes work efficiently to help break down and liquefy organic matter and adsorb organic deposits.
Sani Sticks sit in the drain pipe and start to work when they run into the drain. These sticks will remain in the drain pipes and when water is run into the pipes, the enzymes in these sticks will be activated. As water is absorbed into the sticks, the enzymes are activated. They release their clearing power and efficiently destroy bacteria buildup and smelly organic matter in the pipes. It works great to clear away the bad odor and makes your kitchen, bathroom, and house clean and fresh, free from disgusting odor and bacteria. When the clogs are dissolved, the water will flow freely and the issue of water backing up will also be solved.
Different types of Sani Sticks:
Sani Sticks are available in a variety of colors and fragrances. They come in an ideal size that will fit all drains. Its powerful enzymes start working instantly and effectively cleans the clogged drains covered with grease and other waste materials.
Studies have shown that Sani Sticks quickly clears bad odors and the fragrances emitted by this product freshen up the whole house. Here are some suggestions to add some fresh air to your house.
Sani Sticks drain cleaners and deodorizers:
Rose Scent:
These Sani Sticks have a rose scent and come in a pack of 12 sticks. They are great to use in any room around the house as they will release a sweet and perfume-like fragrance.
Lavender scent:
They have a lavender scent and come in a pack of 12 sticks. They are good to use in the bathrooms as they will help you avoid any embarrassment in front of the guests. They make the atmosphere calming and relaxing.
Orange scent:
These Sani Sticks have an orange scent and help the drains stay clean and clear. They are best to use in the kitchen and laundry.
Lemon scent:
The lemon scent Sani Sticks work perfectly in cleansing and rejuvenating. They are good to use in kitchen drains as they will help them stay clean and smell fresh.
Unscented:
These unscented Sani Sticks can be used anywhere around the house. They are made for people who are sensitive or allergic to perfumes and smells and people who do not like fragrances. They will work equally well to remove the unpleasant smell caused by bacteria.
What are the Benefits of Using Sani Sticks?
· Durable:
Sani Sticks are one of the best sellers in the market due to its durability. They give long-lasting results said to last for up to one year.
· Economical:
Sani Sticks work efficiently and save the cost of hiring plumbers and maintenance costs. They clean the snakes in the drain and prevent them to stay as they can sit in the pipe and stop the water flow.
· Increases water flow:
By clearing the bacteria buildup and cleaning the drains, the overall water flow is increased in the sinks, drains, showers, kitchens, and laundries.
· Flexible:
It is recommended to add these sticks into your regular drain cleaning schedule. You can use it from time to time whenever you clean the drains. In fact, it can be used once a month.
Can I use Sani Sticks in Septic Tanks?
The company claims that Sani Sticks are safe to use in septic tanks, shower drains, kitchen sinks, and tubs. It can be used in all kinds of plumbing materials as it contains only organic components. The materials include plastic and copper pipes. So, any product like Sani Sticks that quickly clears and cleans the septic tanks is worth the try.
We all know that the maintenance of septic tanks is very important as it is the central drainage system of the whole house. All the waste from the plumbing system is accumulated in it. The septic tank separates the solid matter from the liquid matter in the drains. If the drain becomes over-clogged due to bacteria, the water will not flow but instead, it will start backing up into the drains.
What are Sani Sticks made up of?
Sani Sticks are made up of natural ingredients. It has safe, non-toxic, organic enzymes that provide fast-acting compounds. These enzymes efficiently clear any organic matter that has clogged up the drains. The enzymes are long-lasting and highly concentrated. They work the same as powerful enzymes that help absorb and metabolize food in the human body.
How do Sani Sticks Work?
People find Sani Sticks amazing because it works so fast just like magic. For good results, you only need to fit one Sani Stick in the drain once per month. You can use it in any room with a pipe drain, including the shower, kitchen, laundry, and bathroom. The sticks are long and thin and can easily slide into the drain.
When water passes through the drains containing Sani Sticks, it is activated and works efficiently to dissolve the bacteria buildup. It will quickly remove the disgusting odors caused due to bacteria accumulation. As a result, the buildup is broken down and leaves the clogged up condition.
Do Sani Sticks Completely Dissolve Organic Matter?
Yes, Sani Sticks quickly and completely dissolves all the organic matter. However, some drains might take longer than others depending on the level of buildup. Customers usually like this product because it has a strong clearing power and also prevents any further blockages.
Studies suggest that in drains that have more bacteria accumulation, it is good to use other natural materials like lemon, baking soda, and vinegar before applying the Sani Sticks as it can help break down the build-up faster.
Do Sani Sticks Dissolve Hair?
The company claims that Sani Sticks help remove hair from the drain. But discussing if it really removes and dissolves the hair, we found some mixed reviews on this question.
Some of the customer reviews stated that it helped them a lot in removing the hair while the others claimed that they weren't sure about this.
Do Sani Sticks Effectively Unclog Drains?
According to some of the studies, Sani Sticks are better to keep the drains clean rather than unclogging already blocked drains. They prevent further blocking by keeping the drains clear and improving the water flow. However, we did find some satisfied customer reviews claiming that the cleaning ability of the drains was just as advertised.
Some of the customers gave suggestions to consider the size of the sticks. They claimed that the product might allow pieces of organic matter to lodge around the sticks that can lead to further clogging in the drains. So, here is our review for Sani Sticks.
How are Sani Sticks as Compared to Other Similar Products?
The overall reviews claimed that Sani Sticks are good as they last longer than other products and save costs than other methods.
Sani Sticks has a better rating than all other similar products in the market.
Customers were satisfied with its ease of use and claimed that it cleaned the drains just like professional plumbers.
People liked the fast delivery and short turnaround time between ordering and delivery as Amazon shipping is fast. They were pleased that the ordered packs arrived in contact.
However, a few customers were not satisfied and said that the product does not work as advertised. One of the users also said that they bought and tried other products as well, but Sani Sticks worked the best of all and got rid of pesky drain flies.
The overall reviews of Sani Sticks were positive and the majority of the users were satisfied. They claimed that the results were just as advertised and Sani Sticks did work like magic. So overall, it is a good product.
Buying Guide:
A few things should be kept in mind when buying a product. Although Sani Sticks come in a pack of 48 if you buy more on one invoice from Amazon. You will get huge discounts.
Another advantage is that Sani Sticks cares about customer satisfaction. This product has a month-long trial period so you can use and test it. If you don't like it's working, you will get the full money back, meaning that it is free for one month after you purchase it. However, you may forfeit almost half the delivery cost. That's why it starts in the market. So, it is a good choice if you want to try something new in the market as they are giving you a test for free.
Conclusion:
We all want our homes to stay fresh, clean, and orderly well-functioned. Nobody likes clogged-up drains and the disgusting odor it emits. Sani Sticks will be the best product in such cases. Sani Sticks works fast than other products as it contains organic and biodegradable enzymes. It not only breaks down the bacteria accumulation but also cleans and deodorizes the drain. Sani Sticks come in a variety of charming fragrances that freshen up the whole house. A good feature of Sani Sticks is that it can last longer than others, up to one month. One stick is enough and it starts working quickly when the sticks are inserted into the drain pipe. Its enzymes will dissolve the organic matter and clear the clogged drains in no time. Also, it will prevent further clogging of drains. Among a significant percentage of Sani Sticks reviews, the customers claimed that it worked very well and they were pleased with the results. Sani Sticks has great power that will help make your drains clean, clear, and sweet-smelling. Its positive reviews have made it the favorite product for customers as it is easy to use and has a better rating than all products in the market. Its one-month free trial quickly attracts customers to it. After looking at the reviews, it can be said that the money spent on Sani Sticks is worth it.