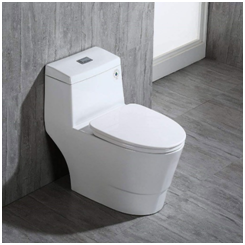 Many people use a lot of toilet paper for cleaning purposes, which clogs up sewage systems (1) and causes a slew of environmental problems like energy waste and deforestation (2). However, a bathroom revolution is underway, with new bidets attempting to dethrone toilet paper and grab the porcelain throne for themselves.
Bidets not only help to minimize paper use, but they can also aid with personal hygiene. Not to mention, they come in handy when toilet paper is scarce. Consumers may now convert their existing toilets into bidets more easily than ever before, thanks to low-cost bidet attachments (which attach to the toilet) and bidet seats.
A bidet seat can help you save money on toilet paper while also giving you a more thorough cleaning—and, like full bidets, it's better for the environment. While a bidet is an expensive alternative, you can save money by keeping your current toilet and installing a bidet seat instead. Continue reading to learn about the finest toilet options to buy in 2021.
Best Bidet toilet to Buy
Bio Bidet Electric Bidet Seat
This bidet seat is reasonably priced and comes with all of the functionality that one could desire. A stainless steel oscillating nozzle with feminine, posterior, and child cleaning functions; a wide, turbo, and massage cleaning function; adjustable water pressure and temperature; and a warm air dryer are among the features. The nozzle is self-cleaning, which is vital for both safety and cleanliness, and the heated seat closes slowly so there are no startling slams in the middle of the night.
On that note, the nightlight functions will come in on those late-night excursions to the bathroom. It fits most standard-size toilets (a round variant is also available) and requires a GFCI outlet. On the right side of the seat is the control panel.
Special Feature
Multiple cleaning functions are available.
Water pressure and temperature can be adjusted.
It cleans itself.
The seat is heated.
It also comes with an air dryer.
---
Kohler Puretide Manual Cleansing
A non-electric seat, like this one from Kohler, is your best alternative if you're on a budget (or just don't have a power outlet near your toilet). It doesn't even require a battery. We like how easy it is to install, and how the soft-close seat looks elegant in your bathroom with its smooth contours. It comes with a single self-rinsing wand that sprays water at room temperature. A lever on the side of the seat allows you to manage the pressure and modify the position.
Special Features
It is not powered by electricity.
Installation is simple and quick.
Water pressure and angle can be adjusted.
---
Brondell Swash 1400 Luxury
When you use the Brondell Swash 1400 Bidet Seat, you'll never have to deal with the shock of cold water on your nether regions again. This high-end bidet will provide a relaxing wash that will make you forget about toilet paper thanks to its ceramic core water heating system and ergonomic heated seat.
This bidet also includes a replacement deodorizer to eliminate odors, as well as a self-cleaning and sterilizing nozzle for added convenience. The water and power cord connections are hidden in a hidden pocket on the side, creating a cleaner look in your bathroom, and the built-in nightlight is ideal for late-night treks to the bathroom. Families and couples will appreciate the fact that it has memory settings for two individual users, ensuring a perfect clean every time.
Special Features
Water pressure and angle can be adjusted.
It cleans itself.
A replaceable deodorizer is included.
There are memory settings available.
It also comes with an air dryer.
---
ALPHA JX Elongated Bidet Toilet
Bidets are a gentle and sanitary option for elders who aren't as mobile as they once were. The front and back metal nozzles on this ALPHA elongated bidet set provide effective cleaning. The seat comes with a remote control that shows the current settings so there are no surprises, or customers may use the one-touch "easy wash" feature.
Its tankless water heating method saves 40% more water than traditional bidet toilet seats. It also contains a motion sensor that turns on the LED light to illuminate the area around it, making nighttime potty walks safer. The cleaning is really quiet, and the lid closes softly.
Special Features
Wireless remote control is included.
Water temperature can be changed.
LED light that turns on automatically.
---
Tushy Classic Bidet Attachment
Consider a bidet attachment if you're not sure you're ready to invest in a whole bidet seat. It takes less than 10 minutes to install the Tushy under your seat, and it works with all conventional toilets and most skirted toilets. It has a single self-cleaning nozzle, with a knob and switches on the side to control the pressure and angle. Both are antimicrobial, which we enjoy. It's fully non-electric and doesn't even require batteries; all it needs is a water source.
It's important to note that this is solely for posterior cleaning and not for feminine cleansing. You can feel even better about purchasing a Tushy since for every unit sold, the company contributes to the construction of clean toilets for the underprivileged in both urban and rural regions.
Special Features
It's easy to set up.
It cleans itself.
Water pressure and angle can be adjusted.
It is not powered by electricity.
---
Genie Bidet Self-Cleaning
A bidet toilet seat is not for everyone. Not everyone can afford or wants to spend hundreds of dollars on one. This could be the one if you're on a tight budget. It has simple controls that allow you to manually extend the nozzle and then wash it.
There is no technological involvement, so though it may not be as sophisticated as others, it is less likely to fail. It only fits elongated toilet bowls, so if you have a round bowl, look for something else. Overall, this is difficult to beat in terms of value for money, but keep in mind that it is a budget model, so it will have limits. Expect no bells and whistles.
Special Features
The price is unbelievably low.
Controls that are simple to use.
The operation is done manually.
---
Woodbridge B-0960S Smart Bidet Toilet
Why not purchase a smart toilet seat in conjunction with your toilet for maximum convenience? This seat is quite intelligent. When you approach it, it detects your presence and opens automatically. Similarly, the toilet flushes without you having to do anything when you wake up. It includes a posterior wash, a feminine wash, a pulsing wash, and filtered water delivery. It also cleans the regions by oscillating and massaging them.
The water pressure, water temperature, and dryer temperature may all be adjusted. It also includes a heated seat that can be adjusted. There's even an automated deodorizer that draws fresh air around the toilet bowl through an ionized carbon filter.
Special Features
Seats That Are Smarter Than The Average
Washing with a massage.
Carbon Filter with Ionization.
---
TOTO SW2034#01 C100
Bidet seat dryers present a unique challenge: you want them to be powerful enough to do the job, but not so powerful that the airflow splashes the toilet water. The Toto C100 comes at three speeds, all of which are effective without being overly forceful. There are three warming degrees on the seat, and the tank-style preheats enough water for a 45-second cleaning. A back and front spray with self-cleaning nozzles, a side control panel that recalls custom settings, and a deodorizer are among the other features. It comes in two different shapes: elongated and circular.
Special Features
The temperature and speed of the water can be adjusted.
It cleans itself.
There are memory settings available.
It's available in a variety of styles.
---
American Standard White Spalets 2.0
This low-profile seat is compatible with all American Standard toilets with extended seats, as well as the majority of other manufacturers. It contains self-cleaning nozzles on both the front and back for complete cleaning. The easy-to-use dial on the side controls the angle, temperature, and pressure, and a built-in soft night light makes evening travels even safer.
The soft close seat can be completely removed with a push of a button, making it simple to clean the toilet—and with fewer bells and whistles, this seat couldn't be any easier to install. Women who are pregnant or have recently given birth will benefit from the seat.
Special Features
There are several cleaning options available.
It cleans itself.
A night light is included.
Installation is simple and quick.
---
VOVO STYLEMENT Electric Bidet Seat
You can't go wrong with the Vovo Stylement Electric Bidet Seat for a round-style toilet. Its three-in-one stainless steel nozzle has feminine, posterior, and turbo wash modes, as well as five various nozzle positions and water pressure levels.
The water, as well as the seat and the dryer, can be heated to three different temperatures (from warm to hot). It comes with a useful LED nightlight, a simple remote control, and a one-touch eco-friendly energy-saving option. We would merely add a memory function for the numerous settings to this seat.
Special Features
There are several cleaning options available.
Water temperature can be changed.
A night light is included.
It also comes with an air dryer.
---
Wrapping Up
Cleaning with a bidet cuts down on wiping and removes any residue that could cause itching, soiling, or infection. So, it's quite efficient to use a bidet toilet for your cleanliness. Hopefully, this article will help you out in finding a perfect bidet toilet.