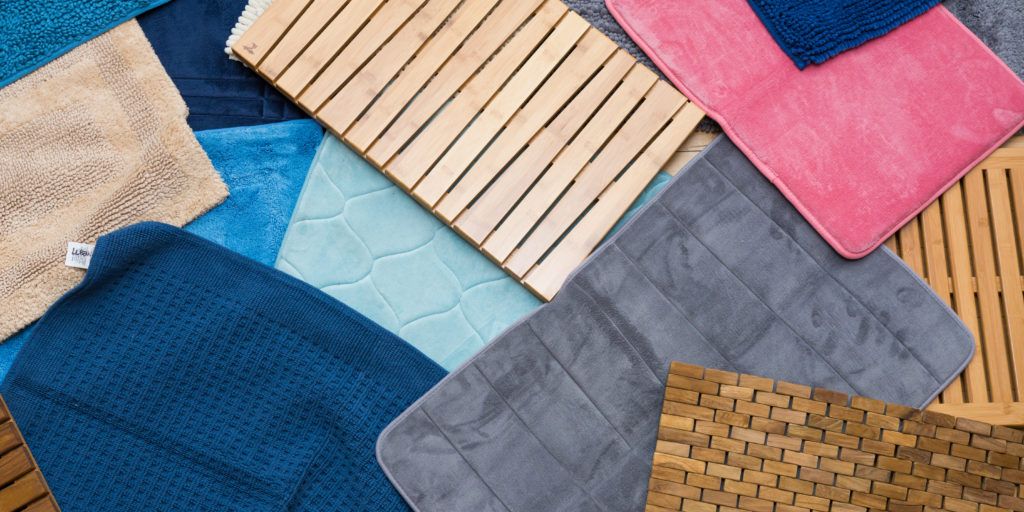 Some people might not know, but bathroom rugs are a useful thing to have in your bathroom. They not only help you to avoid slipping but also protect your feet from the cold bathroom tiles.
Moreover, bathroom rugs add a unique and elegant look to your bathroom (1) so, it's good to have one. They add a stylish and modern appearance to your bathroom.
With so many amazing colors and eye-catching unique designs, it's obviously a difficult task to choose the best one with amazing performance as well.
For your convenience, we have compiled below some of the best bathroom rugs we have found flawless in terms of both quality and appearance, that will probably suit your budget, requirements, and choice!
Gorilla Grip Original Luxury Chenille Bathroom rug:
The Gorilla Grip luxury chenille bathroom rug is considered the best bathroom rug due to its superior quality and absorbing capacity. Its thick Chenille fabric quickly absorbs the moisture and prevents you from slipping. It can soak up a huge amount of water quickly and efficiently, making it the best bathroom rug of all time. To provide even more protection to users, this bathroom rug is underlined with a textured layer that also offers a non-slip function.
In addition to quickly absorbing water, this bathroom rug has been specifically designed to dry up quickly as well. So, you don't have to worry about molds growing up in your washroom. It is also machine wash safe, unlike other bathroom rugs that are not machine dryable and can be washed a few times only. This bathroom rug can actually last a lifetime!
This flawless bathroom rug has been manufactured with expensive TP rubber backing, which is far stronger than PVC or glue. This is the reason that it is more durable than all the bathroom rugs in the market. Plus, it comes in a variety of hard and soft colors you can choose from. They have many unique and beautiful designs as well that will coordinate with your bathroom's interior. Also, they come in a variety of sizes from small to large washrooms. However, they can get displaced when you step on them. They are so soft to touch and provide so much comfort to their users.
These bath rugs are hygienic and super warm and cozy to stand and are easy to clean. Also, its comfort, absorbency, and softness make it the best bath rug worth the money!
---
Epica Anti-Slip Machine Washable Anti-Bacterial Bath Rug:
The Epica anti-slip bath rug is considered the best among all the non-slip bathroom rugs. Unlike many bathroom rugs that slip as soon as you step on this bathroom rug is sturdy and thick. It is safe and efficient to use even in the bathtubs. It is designed with pure and durable rubber, which always gives it a fresh and new look no matter how many times it is machine washed. It has dozens of suction cups attached at the bottom that provides a strong grip and makes this bath rug stay in its place.
This bath rug is very comfortable to stand on as it creates an amazing grip with your feet and won't let you slip even in the shower. Its thick and durable rubber also keeps you safe from the cold bathroom floor. It can withstand repeated daily usage, without losing its soft texture.
Although it cannot absorb water due to its rubber material, this bath rug is super easy to clean and stand. Its ability to not absorb water is actually a pro. Many bath rugs with water-absorbing capacity can grow molds and mildews dew to extreme moisture in the bathrooms. It is therefore antibacterial as it can easily be washed to retain its hygienic ability and is easy to clean as well.
This rug is not only affordable but also provides safety from any kind of slippery in the shower. It comes in a variety of colors to match your bathroom and also has various shapes that can fit any large or small bathroom.
---
Genteele Memory Foam Bath Rug:
The Genteele memory foam bathroom is the best choice if you are looking for a super-soft foam bath rug. This memory foam bath rug is hypoallergenic and quickly absorbs water and moisture to keep the bathroom floor dry and clean. These foam bath rugs are specially designed to keep your feet secure and soft.
Almost all bath rugs are designed in a way to help you avoid slipping in the bathroom, but this memory foam bath rug has been designed while keeping functionality, durability, style, and comfort in mind. The Genteele memory foam bath rug adds so much glamor to your bathroom with its soft and comfy design and amazing quality.
To ensure amazing product quality, this bath rug is made up of velvety microfiber material that feels soft on your feet. Its interior has a plush memory foam to add even more comfort to your feet. In the case of non-slip ability, the most important one, this bath rug features PVC dots at the bottom. These dots create an ever-lasting grip between the floor and mat and prevents you from slipping whenever you step on them.
This bath rug comes in 14 different colors and has a vast variety of shapes and sizes, allowing it to be used in any bathroom. Genteele has ensured hygienic measures by making this bath rug machine washable and dryable. Cleaning this bath rug is very easy and it provides much versatility and flexibility to its users.
---
Anji Mountain Bamboo Natural Bath Rug:
The Anji mountain bamboo bath rug would be the best choice for you if you want some woody appearance in your bathrooms. Not only does it give an elegant and natural appearance to your bathroom, these bath rugs are also environment friendly (2). Would be perfect for any nature lover!
It is an extremely versatile bath rug to use whenever you get out of the shower. Its 100% natural bamboo construction provides great functionality. Just like all other bath rugs, it was designed while keeping non-slip ability in mind. That is why it is underlined with a non-skid latex backing that helps to keep the rug in place and also prevents slipping of anyone standing on it.
It impressively soaks up all water and moisture to avoid slips and falls. Any natural wood does not soak much water though, it quickly dries up all the water to avoid the growth of any bacteria (3) or mildews. However, it won't be a good choice to use in the shower as a non-slip mat. This is because it is made up of bamboo with a rubber backing and so, it will easily fall apart and won't last long. It would be a better option to use it to step out of the shower or for the bathroom sink. Plus, with its bamboo material, it can be used on any flooring either vinyl, ceramic, or hardwood.
Its high durability, ease of cleanability, unique design, and natural look have all contributed equally to make it the best bath rug in terms of quality and appearance.
---
Vdomus Non-slip Microfiber Shag Bathroom Rug:
This bath rug has been professionally designed by Vdomus to provide efficient bathroom equipment to its customers with its high durability and moisture absorbing capability. This bath rug is made up of thousands of soft microfibers shags and is most efficient to use for elderly persons. It can also be used in a kid's bathroom due to its high water absorbing capacity and easy cleaning option.
This bath rug comes with a longer shag and larger size but has the same price as other cotton bath rugs. It would be a perfect choice for a large washroom, as it occupies more space.
Unlike all other cotton bath rugs that slip as soon as you step on them, the Vdomus bath rug has been updated with anti-skid backing. This durable non-skid backing will never fade, keeping the mat in its place for years and making it an ever-lasting product.
Besides excellent absorbing ability, this bath rug also absorbs moisture and dries up quicker than many others, preventing the growth of any bacteria and molds. It helps to keep your bathroom dry and clean, giving it a unique look and glamor. Also, it is machine wash safe and easy to dry.
You can even toss the whole mat into the machine or wash it with your hands as many times as you want. Its super soft microfiber material neither gets rough nor it will shrink, giving a new look to your bath rug every time you wash it!
The Vdomus bath rugs come in a variety of colors like red, green, blue, pink, purple, and many more you can choose from. Plus, it also has different designs and sizes to meet all your requirements.
This 25 mm thick rug with soft microfibers provides comfort to your feet and relieves fatigue and stress whenever you go into the shower after a tiring day. It is great for any bathroom and acts as a soothing barrier between the cold floor and your feet.
---
DZY Diatomaceous Earth Bath Rug:
This bath rug is a perfect choice for you if you are really concerned with the bad-odor bacteria and molds growing in your bathroom. Made from the perfect quality, this non-slip bath rug also has anti-bacterial properties. It is specially made while keeping hygienic measures in mind. That is why, it is manufactured with diatomaceous earth material, a naturally anti-bacterial material. Also, this material is super-absorbent, absorbing all the water and quickly drying up in minutes, to avoid any growth of bacteria.
This bath rug would be a good choice for kid's bathrooms, because of its antibacterial properties, quick-drying, and non-slip surface. It is super safe to use for every bathroom. Due to its stylish and sleek look, it can be used in the kitchen, on the bathtub side, and in front of the sink, making it an amazing multi-function bath rug.
Like other traditional bath rugs, you won't have to machine wash it daily, it can easily be washed with running water when it gets stained and can be aired dried. It is also machine wash safe and will always give a new and refreshing look to your bathroom after every wash. This diatomite bath rug does not let bacteria grow and also does not require regular cleaning and maintenance.
This diatomaceous is made up of millions of fine and soft micropores, giving it astounding water-absorbing ability. It is soft to stand, protects your feet from the cold tiles below, and comes in a variety of colors and different sizes. So, choose the best bath rug that matches your taste and requirements from this amazing and vast variety!