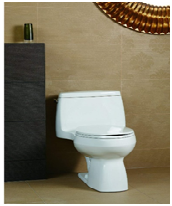 By design, corner toilets are smaller than ordinary toilets. Guests are also likely to make use of them. It's usually tucked away in a corner of your house.
Perhaps you converted the space into a guest bedroom and crammed the toilet in for their comfort and privacy. Installing a corner toilet in a small bathroom can conserve space while still making a statement in terms of aesthetics. However, remember that placing a waste pipe in the corner rather than the wall would be more challenging.
A corner toilet is ideal for homeowners with a tiny bathroom who want to avoid a costly remodel. However, you must first assess the proportions of your area before purchasing a corner toilet.
Choosing the best option, however, is difficult due to a large number of products available. To assist you, we've discussed the top 7 items on the market, along with a full discussion of their benefits and drawbacks.
Best Corner Toilet
American Standard 216 AD
When it comes to designing small areas, you may feel confined. But just because it's warm and inviting doesn't mean it can't still be stylish. An excellent example is American Standard 216. It has a stylish design as well as practical functionality.
Its siphon trap has been expanded from the conventional 2 inches to a wider 2 and 1/8 inch, like with all Cadet toilets. The flush valve has also been increased to 3 inches in diameter. Both of these attributes boost the flushing water's pressure, speed, and power, letting it push a heavier load with less water.
Power-scrubbing and bowl glazing are available in the toilet. The combination of these two properties reduces streaks and other toilet stains.
Advantages:
For increased flushing power, it incorporates a 2.125-inch trap and a 3-inch cadet system.
At 1.6 GPF, it meets EPA (1) requirements.
Its small size makes it ideal for half-baths.
Negative aspects:
The toilet seat is sold separately, and the 1.6 GPF capacity does not meet Texas, Colorado, or California water conservation laws.
---
Renovator's Supply Ceramic
Corner toilets are chosen because they conserve space. As a result, your measurement priorities will differ. When buying a 'normal' toilet, you should focus on measuring the seat size from the seat bolts to the rim. This can help you determine whether your toilet seat is round or elongated.
Because they are more comfortable to sit on, elongated seats are ideal. A corner toilet with an expanded seat is still available. However, before choosing a corner toilet, make sure you know how far away from the wall you are. This indicates the length of the toilet about the door. From the corner to the rim, this Renovator's Supply toilet has a practical depth of 33.75 inches.
Advantages:
Reno-Gloss has been applied to the toilet to prevent scratching, smearing, and discoloration.
It's a dual flush toilet with a liquid flush of 0.8 GPF and a solid flush of 1.6 GPF.
Its highly carved intricacy makes it appealing and unique to the eye.
Negative aspects:
Its trap is uncovered, so you'll have to dust and wipe it off more frequently to keep it clean.
Kohler Veil Wall-Hung
Because the Kohler toilet has no visible tank, it can be installed in any corner or on any side. Just make sure you choose the correct wall; you don't want it to obstruct the door. The Kohler is a 'floating toilet,' which means it isn't attached to the ground. It's instead hung on the wall.
The open space beneath the toilet is created by the floating design, making the bathroom feel wider and airier. It gives the impression of more space without actually enlarging the space. The toilet has a skirted bottom to make cleaning easier. Its conical bowl is really lovely.
Advantages:
Because you can sweep or sweep the floor beneath the toilet, the floating design keeps your bathroom cleaner.
The toilet is supported by stainless steel brackets that are not visible. They're strong enough to support this toilet, which weighs 53.5 pounds.
Because the toilet is mounted on the wall, you gain about 12 inches in bathroom space.
Negative aspects:
It's a one-piece set, with the bowl, cover, and flush plate included. This appears regular until you discover it is held up by a tank and steel braces. They must be ordered separately.
---
American Standard 270 AD
The trap at the bottom of a standard toilet bowl is 2 inches in diameter. The flush valve is usually 2 inches in diameter as well. If you want a more powerful flush, look for a toilet with a larger flush valve and a broader trap.
The Cadet 3 flushing mechanism is featured on the American Standard 270 AD.
This indicates its flush valve is 3 inches wide and its trap is 2.125 inches wide. This flush valve is chemical and corrosion resistant, in addition to providing increased pressure.
As a result, you are free to use any toilet items you like. They won't harm your toilet in any way. The toilet's surface is made of vitreous china and treated with an EverClean finish, making it almost straightforward to keep clean.
Advantages:
Even without its seat, the toilet maintains its Right Height or Standard Height.
Its Cadet 3 mechanism makes it less likely to clog.
It has a 1.6 GPF single flush capacity.
Negative aspects:
Because the seat must be ordered individually, the quality may differ from the rest of the toilet.
---
Signature Hardware Braeburn
The Signature toilet stands 16 inches tall, and it comes with a slow-closing seat. The toilet contains a de-clogging 3-inch flush valve on the right, as well as a handy push-button flush. This is significantly more intuitive than traditional flush levers that are situated on the left.
The normal bolt spread on this toilet is 5.5 inches, and the flush button is chrome-plated. There is a limited lifetime warranty on the toilet, and the trap outlines are apparent.
The tank and bowl, like many two-piece toilets, are sent separately. As a result, they'll most likely come on various days. This toilet is smaller than you might think, making it great for small bathrooms. However, the few inches missing make it less comfortable to use.
Advantages:
For simpler access, the flush button is located on your right.
Because it uses 1.28 GPF, it is suited for all 50 states in the United States.
It allows for easy 360o installation and maintenance.
Negative aspects:
Rarely are the toilet parts supplied on the same day.
---
American Standard Titan Pro
It comes in a lovely beige tint called 'bone.' Its height without the seat, which isn't included in the first kit, is normal at 16.75 inches. You'll have to reserve a seat on your own.
It does, however, feature a skirt that hides the trap and makes it easier to clean. To minimize streaks and stains, the trap is glazed both inside and out.
While the seat must be purchased separately, the toilet comes with color-matched bolt covers for a more streamlined appearance.
The greatest corner toilet for refurbishing is this one. Its skirt extends over a larger region of the floor. This means that any defects, holes, or bolt marks from the preceding toilet will be hidden by its "extended footprint."
Advantages:
It comes with a 10-year limited guarantee.
Its 1.28 GPF tank complies with all EPA regulations in the United States.
It contains a 3-inch flush valve, which reduces the likelihood of clogging.
Negative aspects:
This toilet isn't sold in Texas or California, despite being WaterSense compliant.
---
Woodbridge T-00200
The Woodbridge T-00200 toilet is a high-end square toilet. From the bowl to the seat, everything is tilted. So, if you really wanted to, you could put it in a small corner toilet. The toilet is 28 inches deep from the wall to the rim, which is smaller than the normal corner toilet.
Vitreous china is used to make this toilet. It's a skirted toilet with a design that incorporates square and trapezoid designs. It comes with a soft-closing lid, and the cistern features a slanting lid with a chrome dual flush button.
For liquids, it utilizes 1 GPF and for solids, it uses 1.6 GPF. This opulent toilet is both beautiful and functional.
Advantages:
The kit has everything you'll need, including the seat, bolts, wax ring, and even a wrench.
Because it's a one-piece skirted toilet, it's easy to clean and maintain.
It flushes with a forceful but quiet siphon.
Negative aspects:
Although its form allows it to fit in a corner bathroom, it is not its intended use. So it'll look fantastic, but sitting on it might need contortion.
---
Wrapping Up
Many corner toilets are intended to fit into tight spaces. The back of their cistern is designed like a triangle. The entire tank can be a triangle at times. Occasionally, a standard curved or square tank with a modified tip is used.
This second design has the potential to move forward. We've looked at some of the factors to consider while purchasing a toilet. We've also shown you the best models that we think are exceptionally attractive.